If you've been around The Calm of His Presence for very long you know I don't get caught up in politics, hot button and trending topics in the world. If I did the main focus of this corner of the internet would be lost. Our focus here is taking a break from the crazy, busy life we all live and finding moments of calm in the Presence of Christ. But, there are times when God uses something that happens in our country to set me straight and refocus me on the pasture He has me tending.
I know we've talked about this many times before but to confirm it yet again…
God calls each of us to serve in a specific pasture. It's our responsibility to faithfully tend the pasture He has called us to.
Earlier this week First Lady Barbara Bush passed away which brought on social media posts, newscasts, and articles that discussed her impact as our First Lady. She was a lady of class, humor, loyalty and strength. However, for me, one article stood out among all the rest written by Dana Perino for Fox News. One of the stories Dana told was about Mrs Bush's response to a question on mentoring.
"In 2011, I invited Mrs. Bush to kick off a Minute Mentoring event in Houston. She said, 'Why would you want me? I've never worked a day in my life.' 

While true that she never earned a paycheck, she worked her tail off for her family, her staff, her country. She donated all of her book proceeds to charity." Dana Perino: For Barbara Bush, loyalty — and love — went both ways
"Why would you want me? I've never worked a day in my life." That statement stopped me in my tracks. In her mind, Mrs. Bush never worked a day in her life because she did what she loved. She focused on "her family, her staff and her country". She was confident in the pasture God placed her in to serve and served there with her whole heart until she drew her last breath.
So here's my question for you? Are you focused on tending the pasture God has placed you in to serve or are you caught up comparing yourself with those around you wanting what they have or doing what they do? Friends, let me speak a little tough love to you today. It's not about what we think we want because someone else has it or wishing we had their job or ministry. It's about doing the work God has called us to do in the pasture He has called us to serve. 
In Jeremiah 1:4-8 God calls Jeremiah to be a prophet to the nations. Despite the fact that Jeremiah felt inadequate God chose Him for a purpose. Jeremiah 1:5 says,
"Before I formed you in the womb I knew you, before you were born I set you apart; I appointed you as a prophet to the nations."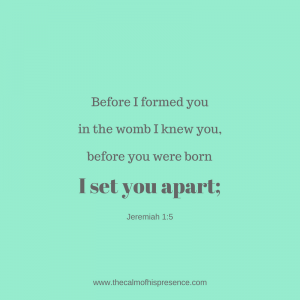 Just like the Lord had a plan for Jeremiah he also has a plan for you. He knew you before you were formed in your mother's womb. My friend be confident in knowing God has set you apart for a purpose. Whether you know God's purpose for your life or not I challenge you to trust Him in His perfect plan and tend the pasture you are in right now. 
"Trust in the Lord with all your heart and lean not on your own understanding; in all your ways acknowledge him, and he will make your paths straight." Proverbs 3:5,6
Take a lesson from First Lady Barbara Bush on how to tend your pasture…
~Love your family well within your 4 walls
~Give grace to those outside your 4 walls with whom you come in contact on a daily basis at work, school or church
~Be willing to step outside of your comfort zone to share the love of Christ

Want to make sure you don't miss anything from The Calm of His Presence? Sign up to receive the newsletter by clicking on the "Sign up" button in the top right and follow on Facebook, Instagram & Pinterest.
In His Calm,
SaveSave
SaveSave