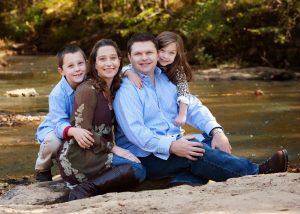 Welcome to The Calm of His Presence. As a mom to 2 energetic, big personality kids there is never a dull moment. Growing up I envisioned graduating college, focusing on a career in the corporate world, getting married & then having kids, maybe.
But God had different plans. I met the love of my life Jeff while in college. We married shortly after graduation & knew early on we would eventually have kids. After 7 years of working as a critical care nurse and helping my husband through graduate school my career suddenly came to a screeching halt when I collapsed in the ICU while pregnant with our son, two months of bed rest later our son was born.
With his birth my nursing career ended and I became a stay at home mom. Never in my wildest dreams did I ever imagine how difficult being a stay at home mom could be. The days were exhausting, noisy, unstructured and lonely. But, along with the noisy, difficult days came some of the most rewarding God moments of my life.
Through the 18 years of marriage and 11 years of motherhood God has taught me countless lessons on how to be a Godly wife and mom and how to find His Calming Presence in the crazy, hectic days of life.
Thank you for joining me at The Calm of His Presence. My prayer is that you will find it a place where you can take time out of your crazy, hectic day and meet with God in His Calming Presence. I hope you will leave here knowing you are not alone in the journey of motherhood and marriage and that you will take something with you to make your life a little easier.
In His Calm,