Over the last year I have had several opportunities to learn of the sad truth that Human Slavery & Trafficking are unfortunately alive and very active, during the month of April each Friday I will be focusing on the issue of Human Trafficking in the United States and around the World. My prayer is that through the guest posts this month your eyes will be opened and you will find away to pray and help fight Human Trafficking.
For those of you who haven't met my friend Julie Sanders you are in for a treat. Julie & I met about four years ago at She Speaks. Despite the brief meeting Julie and I have become friends through prayer, blogging and our hearts to reach women who are searching for the peace of Christ. Julie writes at Come Have a Peace, she is a dear friend and blogging mentor. I know you will love her gentle spirit and heart.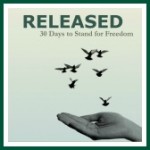 Julie recently published an e-book titled RELEASED: 30 Days to Stand for Freedom. Her guest post today is an excerpt from RELEASED. You can download RELEASED: 30 Days to Stand for Freedom here http://www.juliesanders.org/human-trafficking-devotion/.
Now I Know
We met when she tapped on my car window. I was waiting at the drive-thru as she hopped out of the grass along the canal. Her wide, white smile shone from her brown face, resting on fingers gripping the door. Too-big clothing hung on her body, giving away a slight form underneath and bare feet straining to deliver her plea. A small hand opened in outstretched hope, so I ordered extra food. I pulled over to park, knowing enough to resist the urge to give money and satisfy a potential handler lurking in the dark. Instead, I shared food for the moment, which she tucked away without a word of thanks, hopping back towards the canal.
Her image lingered in my mind, shouting poverty and hunger, leaving no doubt education was out of her reach. Where were the adults who should've been watching over her? I wanted to do more, but didn't know where to begin in the black hole of need we called our adopted, tropical home in Asia.
In time she shared her name, giggling as if she expected to be nameless and thought it strange we would want to know her. Each time our paths crossed, she hopped out and grabbed my heart with her outstretched hand. But that was before I knew.
Now I know. There are millions of adults and children in slavery around the world today. Some estimate the number to be more than all those in the trans-Atlantic slavery period. Now I know almost 2 million children are victimized in the commercial sex trade each year. Factors such as poverty, hunger, education, broken families, conflict, and abuse put children and adults at risk, creating vulnerable populations as prey for perpetrators worldwide. These facts explain how the profit-driven industry has become one of the top financial contenders around the globe.
Now I know slavery is not just a foreign problem, but also a domestic evil in my own country. In the Land that claims to be the home of the free, the Polaris Project estimates 17,500 foreign nationals enter the borders due to trafficking each year. All fifty of the United States have reported cases of human trafficking for labor or sexual exploitation. In my own city, interstate highway systems merge, presenting a prime location for the route of the modern slave trade.
In July of 2013, the FBI conducted Operation Cross Country, arresting 150 people in 76 American cities, seven in my hometown. Over a hundred children were rescued nationally, most between ages 13 to 17, the youngest exploited by her own father. As in every nation, perpetrators exploit the vulnerable through coercion, fraud, or force. Now I know slavery is international and domestic, impacting adults and children, women and men.
Now I know my small, hopping friend was reaching out for more than bread. Like millions around the world, she reached for hope and rescue. I don't have to wonder if God knows, because His words inspire me. "May he defend the cause of the poor of the people, give deliverance to the children of the needy, and crush the oppressor!" (Psalm 72:4). When I look into the evil of global human slavery, God assures me, "For the needy shall not always be forgotten, and the hope of the poor shall not perish forever." (Psalm 9:18)
Father in Heaven,
Thank You for defending those who are poor, needy, and oppressed. Would You remember them now and be their hope? You see and know their cause better than I do, so I ask You to feed their faith and help them to reach out to You. Amen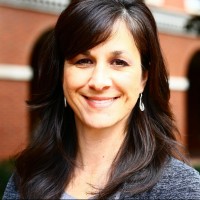 Julie Sanders is a minister to women in her own country and abroad. As a writer and Bible teacher, she is passionate about helping others know the peace that passes understanding. She has helped to establish Fresh Grace, a cooperative of churches moving against domestic human trafficking in her region of the United States. www.juliesanders.org
I asked Julie to share a little bit more about Fresh Grace. This is what she had to share…" When I was first invited to come to a luncheon and learn about human trafficking, I went because I was curious and couldn't imagine not going. After I heard about what is happening, I couldn't turn away. A group of church leaders in my city began to meet together to pray and strategize about how we can mobilize our churches to help fight trafficking. We called ourselves "Fresh Grace" as we began to learn together and share what we discovered with others throughout our region. After two years of first, prayerful steps, we are joining with Street Grace of Georgia to become Street Grace of TN. I just kept taking the next step and walking in obedience to the next prayer meeting, planning session, training opportunity, or event. I asked the Lord to teach me and use me, and He has. I continue to serve on the leadership team of our young ministry during these exciting days. I am now watching as God brings people out of all walks of life from churches, our community, and university campuses. We share a common passion to take action against trafficking in the name of our Savior who came that we might be eternally free."
To find out more about Street Grace visit their website: http://streetgrace.org/.
Related posts: